CHAMPIONSHIP PROGRAM 
DAY 0: July 12, 2023
         Arrival day
         Accreditation day
         Training 
DAY 1: July 13, 2023
         Training
         General Technical Meeting (15:00)
         Opening Ceremony 
DAY 2 - DAY 4: July 14-16, 2023
         Team Tournament
         Team Tournament Award Ceremony (July 16, 2023)
DAY 4 - DAY 7: July 16-19, 2023 
         Individual Tournaments 
         Individual Tournaments Award Ceremonies & Closing Ceremony (July 19, 2023)
July 20, 2023 : Departures
COMPETITION VENUE
DVTK Arena 
3533 Miskolc, Sportliget u. 2.
The multifunctional sports hall in Diósgyőr, the historic district of Miskolc, was opened in November 2021, as the newest facility of the Diósgyőr Sports Park and it is located in the immediate vicinity of the DVTK football stadium. In the arena, there is a continuous parquet covering with a floor area of 3600 m2, on which basketball and volleyball courts have been designated, including 1-1 center court and 4-4 training courts. In addition to the mobile grandstand system with seating capacity of 3,396 people, the sports hall also has a comprehensive sound and lighting system. Members of the volleyball, rhythmic gymnastics, table tennis, athletics, kayak-canoe and bicycle division of the DVTK sports club also train in the facility, and the DVTK HUN-Therm women's basketball team competing in the hungarian national first league and EuroLeague, also plays its home matches here. The first multi-day international sport event of the DVTK Arena will be the 2023 European Universities Badminton Championship.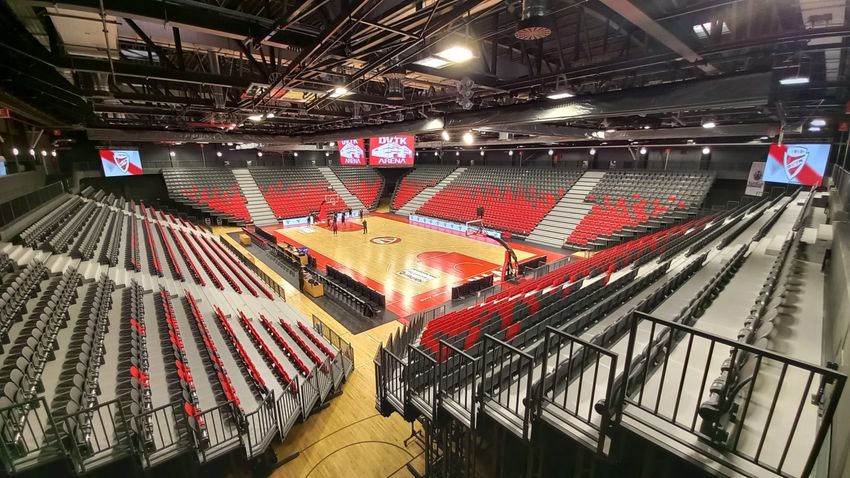 TRAINING VENUE
University Sports Hall
3515 Miskolc, Egyetemváros
On weekdays, the sports hall, which mostly hosts physical education classes, recreational sports and the trainings of the sport divisions of MEAFC sport club, has already hosted many large-scale national and international sports competitions, as well as concerts, exhibitions, and fairs in recent decades. The arena with a floor area of 1,140 m2 is multifunctional and can serv the beeds of basketball, football, handball, volleyball, badminton, tennis, table tennis, wrestling, judo, karate, taekwondo, etc. The external reconstruction, energetic modernization and internal renewal of the University Sports Hall were realized in 2017, as a built legacy of the European Universities Basketball Championship held that year.